Ambassador Profile - Paul Harpur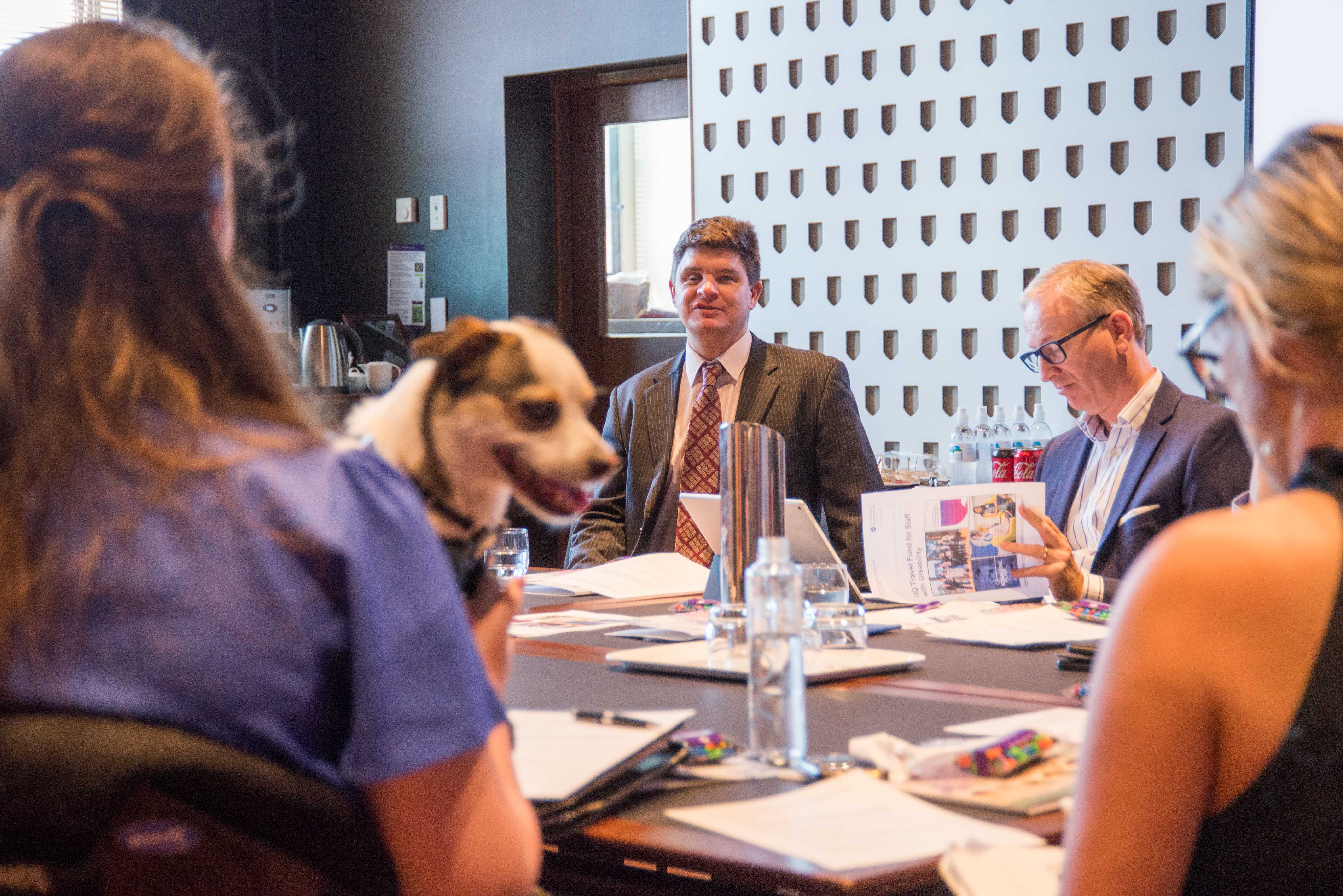 Welcome to IncludeAbility Ambassador Profile Series. This month we are showcasing Paul Harpur.
In September, we caught up with IncludeAbility Ambassador Paul Harpur. Paul shared with us some of his achievements, what's important to him, the value of disability, and some tips for employers and people with disability.
About Paul
Paul is an Associate Professor at the University of Queensland Law School. He is the 2022 Blind Australian of the Year and has had an impressive couple of decades. 
Paul has represented Australia in the Paralympics (Sydney 2000 and Athens 2004), Commonwealth Games (Manchester 2002 and Melbourne 2006) and a string of world championships and titles, and other regional competitions.  Paul has also completed degrees in business and in law, a Master of Law, and a PhD.  He was admitted as a solicitor, practiced, and then entered academia.   
Paul climbed the academic ladder to Associate Professor, proposed and became the founding chair of the University of Queensland Disability Inclusion Group. He sits on a number of committees and boards, has been a company director, and spoken in Parliament and the International Labor Organization in Geneva.  
Paul shared that the highlight of all of the above "has to be becoming a dad and getting married."
The value of disability  
Paul discussed the value of disability in our society.  
"We all have expertise, but having a disability provides me with skills that are less common in society.  I am obviously a subject matter on disability, but more than that. People with disabilities who succeed through education and in the workforce, we have all developed strategies to bounce back from adversity and problem solve. These are skills that are hugely beneficial in business and when being a leader.  So, for me, successfully bouncing back from adversity and turning problems into opportunities are soft skills that I am very proud of."  
Paul was hit by an electric train at the age of 14 and lost his eyesight. 
"Waking up in hospital blind was not the best day of my life, but it was just another day in my life. So, within a few weeks I was out of hospital and a few months later I was representing Queensland in a sporting competition.  I was forced to bounce back from an adversity and saw opportunities and took them."
Soft personal skills became very helpful in 2020 when Paul was working on a Fulbright Fellowship at Harvard Law School.  "Harvard Law School is the best law school in the world and spending time on staff was a dream come true". Paul had a project that involved visiting lots of people face-to-face, "the networking opportunity of a lifetime."  COVID-19 then came along and within 24-hour period doors shut and Paul was left on the other side of the world without a research project.  Fortunately, Paul had confronted adversity before. Throughout the night Paul developed a project to a standard where ethics was approved almost instantaneously.  Paul's employer, the University of Queensland, pivoted and made sure those in their community who needed rapid support got it.  
"So, I left Harvard Law School one lunchtime with no project, and was able to return the next morning with a new project.  Leaders bounce back."
As a legal academic Paul is publishing with publishers this year like Oxford University and Yale University, and also working with leading scholars. 
"The activity I think that will have the most lasting impact is my work in the sector to help develop disability steering groups at universities, but also at the sector-wide level."
Universities Enable 
On 12 October 2022, Paul will launch a sector-wide disability steering group called Universities Enable.  Universities Enable is a disability steering group which will support university Vice Chancellors to develop and realise disability action plans, embed a culture of inclusion, and support the development of sector-wide efforts to champion ability equality.   
"Universities Enable has the privilege of having the Disability Human Rights Commissioner and Universities Australia on the founding committee, along with a number of leading staff with disabilities who are supporting their universities in their disability inclusion journey."
Paul has seen the role that Disability Action Plans and Disability Steering Committees can have, and he wants to do what he can to develop and promote this model. 
In 2015 Paul proposed a Disability Steering Group be formed at the University of Queensland and this was written into the next Disability Action Plan.  Since 2016 Paul has chaired this group and has had direct access to the senior leadership team.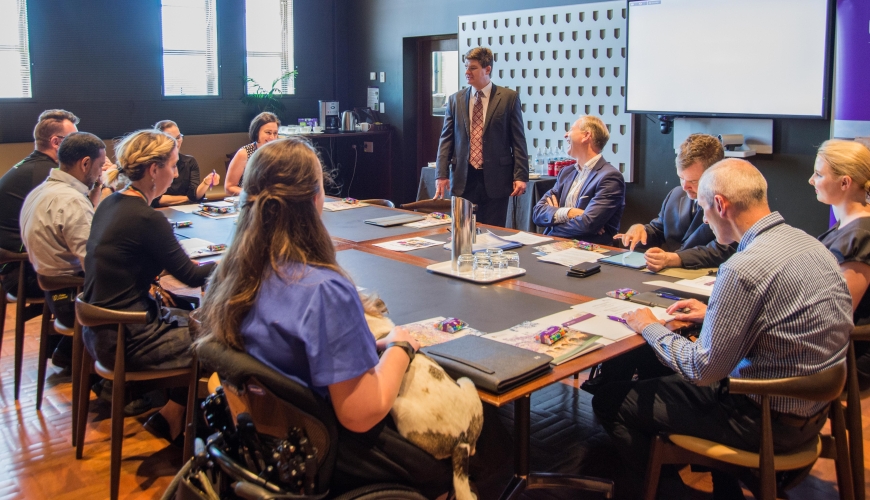 Current Projects
Paul is currently leading a 4-year Australian Research Council Future Fellowship project to help universities become disability champions of change. "This is an exceptionally exciting opportunity and has enabled me to advance a mix of legal and advocacy led research."
Inclusion at UQ 
Paul spoke about how the disability statistics at the University of Queensland illustrate that things are changing.   
"When I started as chair, I mapped out some objectives where I wanted our university to reach.  We have gone passed those.  We previously had no statistics on disability employment, and we were reporting around 4% of our total student cohort having a disability.  We started reporting our staff numbers after a while and our staff and student numbers have steadily increased.  We now report over 7% of our staff having a disability and over 10% of our students.  Our next iteration of our disability action plan will help take our disability inclusion journey further and I am excited to champion this strategy."
Advice  
We asked Paul if he could share some tips or advice for employers when recruiting people with disability. 
Paul spoke about the interview process.  
"Do not ask the person with a disability about their disability in the fixed job interview.  If you do, and even if you have good intentions, you will reduce the time in that interview that they can devote to showing how excellent they are at the job. Give them an extended interview or get them to talk with someone in your organisation first so that the disability issue is not part of their job interview. "
We asked Paul if he had any advice for people with disability seeking employment, and people with disability who are already employed and seeking to advance their career. Paul discussed supports, opportunities and turning disability into a superpower.  
"Use all the supports and funding you have available to reduce the stresses on your life to enable you to be successful.  Having a disability takes work, both medical stuff and the fact society throws up so many barriers, and renumerated work takes work.  Recognise how much work you are doing and be as organised as possible."
Paul also spoke about being open.  
"Even though you may not want to emphasise your disability at work, many other people will be curious.  It is not your job to educate the world on disability, but you need to ensure those who can give you opportunities at work know how you can operate effectively and how you are capable."
And turning your disability into your superpower. 
"If you are comfortable turning your disability into your superpower – then find areas where your organisation is not going well on disability.  Use your disability knowledge to help identify solutions that are workable in the organisation, and then find an opportunity to mention it to a decision maker at a level who can make a difference.  If your organisation has a disability action plan, the person who signed off on it at the top is the CEO.  Use their signature as a reason to contact them on how you see an opportunity to implement the disability action plan on a particular aspect.  Offer to help out. "